New Cartoon;
Dear art lovers,
I will share a new cartoon or artworks every week on Thirsday, from the agenda, from there, from here, from those and from my hearth. Enjoy to review:)
12.05.19 This week new cartoon,
is a greengrocer lion, living in the modern world is able to send location even the sheep customer who is looking to get lettuce. But the instincts are the same as the main concern is flesh! Everything in life, substances and living things always want to return to their natural state from the first creation.
11.28.19 This week new cartoon,
is 'son and father on the way to nature'. They have one hearth but two dreams, They can not leave from technology like  all of us and can not leave from each other on the forest way.
11.22.19 This week topic,
is marriage proposal with cartoon, cartoon is good luck for couples for life time with smile.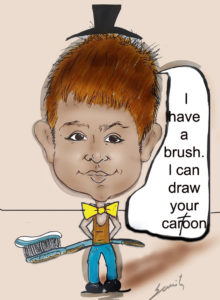 11.15. 19 Cartoon of first week, My little nephew thinks to draw cartoon with toothbrush. A new art trend is coming 🙂

Click here to have your Cartoon