First you need to understand what is happening on the table To play table tennis . Is Playing Table Tennis Difficult? Playing table tennis is a sport, a pastime, a treat and a brain-burning top on the table meeting. This meeting takes place between two or four people. Participants never sit due to the respect each other and fear of losing. Rivals meeting in table tennis are divided into two groups, winners and losers…
Both sides with standing and jumping, they hope more ball spinning and want to feel four corners of pleasure. At this meeting, not the files, not the pens fly but the balls, the rackets fly in the air, but generally no harm is done to anyone. As in everything, the game comes to the end. One wins or loses. But the racket is never thrown at the opponent's head or on the table board.
Table tennis is often a sport with a gentle culture. There is no written rules in table tennis, but its a gentleman's sport. Although there is a battle for each points during the match, the parties shake hands after the match, one is joyful and one is sad. In table tennis, the winner and the loser will be buried in the same place so if you learn something more after match there is no loser.
Win or lose,
The winner gives thanks to god and thanks to his opponent and for the loser it is required a nice patience and moral attitude. Because table tennis is a very complex and versatile sport, every defeat is a stake that strengthens your muscle. If you learn and take lessons, these stakes will keep you upright as if you swallowed a stick in the next match.
And do not forget! Table tennis marerials you use like rubber, wood, table, net, shoes, socks, T-shirt, sweatband are more innocent than ungrateful and greedy human. The defeat is largely due to you. In table tennis, many and correct training will overcome many challenges.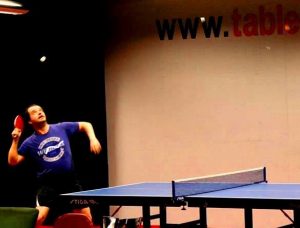 Click Here to Watch My Match Videos
All this aside, for those who play competitive table tennis, this sport is an incurable disease. But table tennis is a very beautiful disease that keeps you fit, lowers blood pressure, lowers your cholesterol, makes you lose weight, strains your brain and produces fumes.
Table tennis for everyone,
And table tennis is one of the hardest sports in the world. First of all, you'll need to find the materail that's right for you, from hundreds of rubber and wood products. But you won't find it alone and your amateur coach friends around you won't be good guide. The first materials used in table tennis dont work but enrichs famous brands.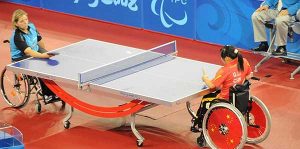 Table Tennis For Everyone
Hold your racket tight,
It may take months or even years to find the rubber and wood that suits you. Expensive materials don't mean you'll play well, but you're guaranteed to lose money.
Because table tennis is played by everyone's own signature. Your technique and material determined by your muscle structure, speed, age, ability, weight, strength and weakness.
The subject of material in table tennis is as deep and complex as a sea or even space, and requires a fine engineer's perspective. At first it cannot swim in this sea and a randomly selected racket that you hold as a life preserver does not save you from drowning.
Longer, shorter pimple, anti-rubber, ordinary rubber, defensive blads, off + attack blades and go deeper there, carbon, titanium, balsa, limbo, ebony, counting thousands of material content does not end.
After trying and failing in table tennis and getting cold and burning your pocket, one day you will definitely stick to your right racket. After that, exercise, exercise mor exercises. In The table tennis the more trainnig the more success.
To Play Table Tennis
But of course, that doesn't mean you'll win every game. If we throw them all aside, table tennis; Whether it is amusement park tennis or elite table tennis, it is the most enjoyable thing two people can do without multiplying. Table tennis is played to relieve stress, but if your opponent is geared, head-to-head, the stress itself becomes table tennis.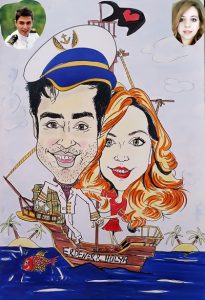 Click here to have your Cartoon
Is Playing Table Tennis Difficult? Sometime yes! Even if you get angry and stressed from time to time and break your thousand dollar racket in your calf, in a competitive match, one forgets everything and goes away from this world.
Like a deeply sincere prayer, man forgets everything, perhaps every activity that pushes this world aside is a pray. In addition, table tennis is a sport that can be practiced effectively at any age from seven to seventy. So don't be surprised if your grandfather miserables you at the desk. Table tennis is a sport where uncle over 60 defeats top league players.
Fenerbahce veteran cup 🙂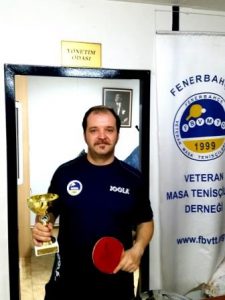 In table tennis, excitement never ends because learning never ends. There are a thousand kinds of service, strokes, attacks and defense methods. Besides these, I do not count thousands of racket options produced with various technologies.
The only downside to table tennis is that it is a bit greedy and ungrateful, like human beings. It always wants you to win, but he doesn't tell you to practice, work, research, learn. Even leaving a week of table tennis training means picking up horseshoes in the easiest matches.
Have Fun, Work and Win,
Is Playing Table Tennis Difficult? Yes for high level players and sweet for amateur. So table tennis is not something you can do after many years like swimming, cycling. Of course if you call table tennis just throw the ball across it. You also don't have to win dozens of medals in table tennis all the time.
Burned fats for a veteran, reduced blood pressure, shrinked cholesterol is the biggest profit you have. One of the most important things to progress in table tennis, tournaments are also held in many parts of Turkey.
As in everything, many of these competitions take place in Istanbul almost every weekend. A tournament is equivalent to dozens of exercises and you shouldn't miss any of them. Hundreds of training sessions are inevitable for every missed tournament.
I'm a veteran of table tennis, and I love this sport. Playing with sports fans of all levels gives me pleasure and health. You can contact me on my website to play table tennis.
I wish success, patience, medals and trophies to everyone who devotes their time to table tennis.
Playing table tennis is not difficult but there is very big difference between pro table tennis and amateur table tennis! Just enjoy no matter you are pro or not! Dont worry just fun.
Semih BULGUR
www.semihbulgur.com